WHEELCHAIR FENCING

Amarilla Veres
Hungary
LATEST TRIUMPHS:

Rio 2016 Paralympic Games – Bronze: women's epee team

2016 European Championships – Silver: women's sabre category A; Bronze: women's epee team

2015 World Championships – Bronze: women's sabre category A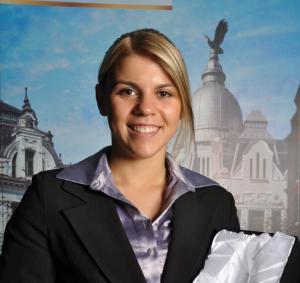 Few women's category A epee and sabre competitors relish the prospect of facing Veres. She is well known for her aggressive style, and for the loud screams that follow each successful strike. The combination makes her an intimidating opponent.
During the 2016 season, Veres had plenty to shout about, rising up the world rankings for both weapons.
Veres is seen as the natural successor to Hungary's Zsuszanna Krajnyak. As Krajnyak jointly holds the record for the most Paralympic medals of any female fencer, it is a tough billing to live up to, but Veres showed she has the potential to emulate her mentor.
She won her first major title in her first season on the circuit, taking women's sabre category A gold at the World Cup in Warsaw, Poland, in July 2015. She impressed again just two months later, winning bronze at the World Championships in Eger, Hungary.
The podium places kept coming in 2016. Veres reached the final of the women's sabre category A competition at the European Championships in Casale Monferrato, Italy in May, though was beaten 15-3 in the final by Ukraine's Nataliia Morkvych.
Veres has given fresh impetus to an otherwise very experienced Hungarian women's epee team, fencing alongside Krajnyak and London 2012 foil category B silver medallist Gyöngi Dani. The trio won bronze at the 2016 European Championships in Italy and then again at the Rio 2016 Paralympic Games.
Following defeat to Hong Kong in the semi-final, Hungary faced a tough bronze-medal match against Poland. The contest went to the wire and Veres played a key part, landing the crucial blow to earn a 45-44 victory and a place on the Paralympic podium.
A memorable year ended with a strong performance at the final event of the season. At the World Cup in Pisa, Italy, in November, Veres took gold in the women's sabre category A event and narrowly missed out on a second gold, losing in the final of the epee contest to Russia's Yuliya Efimova.
The points earned in Pisa were enough to ensure Veres ended 2016 as women's sabre category A world No.2, just seven points behind Ukraine's Morkvych. She has broken into the women's epee category A top 10 too, finishing the season seventh in the world rankings.