TRIATHLON

Alexis Hanquinquant
3 December 1985
LATEST TRIUMPHS:

2018 World Triathlon Grand Final (World Championships) – Gold

2017 World Triathlon Grand Final – Gold

2016 Para Triathlon World Championships - Gold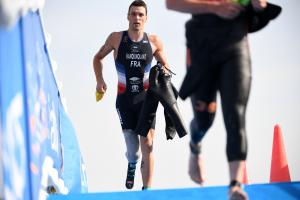 Alexis Hanquinquant burst onto the Para triathlon scene in 2016. His debut came too late in the qualification process for the sport's Paralympic debut in Rio de Janeiro, but Hanquinquant has since made his case for Tokyo 2020.
At the 2018 World Championships in Gold Coast, Australia, he defended his title in the men's PTS4 class.
His rise to the top began at the 2016 Para Triathlon World Championships, where he competed in an open class and won. Those World Championships were only his third International Triathlon Union event; his first was a World Para Triathlon Event (WPE) in Strathclyde, Great Britain, where he finished seventh. But the Frenchman showed quick improvement at the next WPE competition on his home course in Besancon, where he just missed out on the podium.
In 2010, Hanquinquant was involved in a work accident. After several surgeries, his right leg could not be saved and it was amputated below the knee in 2013. Prior to his accident, Hanquinquant was very active, with basketball being his main sport since youth.